Saturday was a pretty long day.  After taking care of my responsibilities of overseeing people to come clean our church, we headed over to U-Haul for a trailer, and then got on the highway for the 1 1/2 hour away trip to go get my new car project.  After many of my past project car options failing to come through, I didn't want to share one again until I actually had it on the trailer. It's pretty hard to find something not tusted out here in Utah.
Luckily,  I did find this 1979 Chevy Caprice 2 door, sans motor, and a good deal on a 5.3l and 4l60e with about 110k on the clock in south central Utah.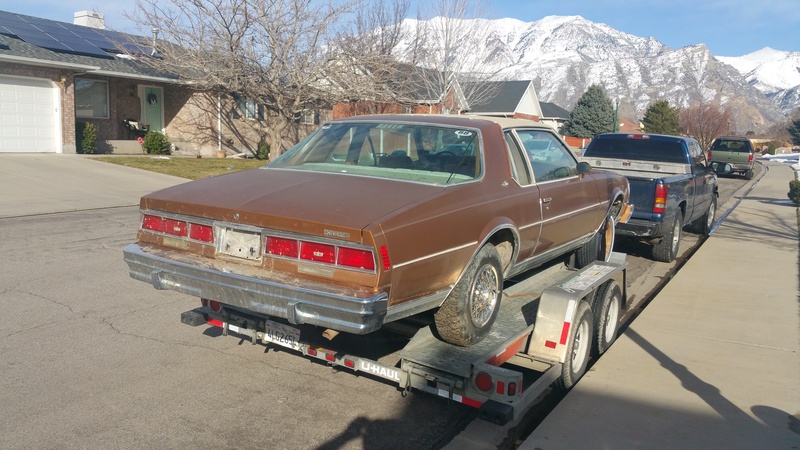 From what I am reading online, since the front front suspension is really similar to the second gen f-body, I will be able to use a lot of the same setup to drop the engine in, correct?
Next step is going to be clean up and mock up.  It needs a deep cleaning due to mice however,  so I'll have plenty to do.  Hopefully the wiring harness isn't trashed.
For now, I plan to just do a simple daily driver type build on it over the next year or so.  Upgraded shocks and swaybars, jeep steering box and steering shaft, newer gas tank with in-tank pump, Impala SS dual exhaust, etc.  Nothing crazy. If i somehow find extra money I will eventually look at 1LE or C5 brakes, hydroboost, and a cop car or SS 8.5" disc brake rear.  If I'm really lucky, a used LSA supercharger would make it even more fun, although that would probably blow the 4l60e to smithereens.  
This isn't my first '77-90 Caprice, growing up in Montana I've had quite a few, including my first car, a black '84 4 door. This will probably be the first one that I really spend the money on and keep, though.
Box