Time to update this as was last updated 2 years ago.
North West Indiana current cruise nights.
Monday: Griffith / Gary Indiana Dunkin Donuts Ridge and Cline. Small group of older guys.
Demotte, IN. Dairy Queen Cruise-In  (May through Sept.)
Winfield, IN 109 Dinner Cruise-In  (4p.m. to 8p.m)
Tuesday:  Hebron, In Pat'z Parking Lot Cruise-In.  (May through Sept.)
Michigan City, In. Al's Supermarket cruise-In
Merrillville, In. - Southlake Auto Mall Cruise-In (First & Third Tuesday May through Sept.)
Monticello, In. Monticello Cruise-in Monticello
St John, In Blue 82 Sports Bar & Grill -8209 Wicker Avenue
Wednesday: Whites Pit Stop Schererville Ind Rt30 and 41 area. Decent crowd food served. Decent crowd and Tyler Tenders in the parking lot for kids. Indoor trains.
Also big biker night with some cars Quacker Steak and Lube Portage right off the expressway by Bass Pro Shops. Huge turn out with live bands most of the time. Good food and wings. Nice friendly crowd.
3rd Weds of every month downtown Whiting. About 2 miles stretch of downtown. Nice turn out. No rift raft. Lots of places to eat on the strip with good food an old 50's style diner (heard its reasonable) and  even a nice place Grillers (very good). Ice scream place to eat outside too. You can drink in the open as long as it's in a bag. Try their pierogi fest also big turn out.
Thursday: Crown Point Indiana. Decent turn out. Dillinger's old jail to tour also. Food is also served all over the square. For two weeks of the year when the fair is in town it is held in a senior center one mile down. Even bigger turn out and cooked food is served . Benefits the seniors.
Friday:
Biggest one
. Valparaiso at Harley dealer on Rt30. Huge turn out. Biggest in area about 4 city blocks. Live band and cooking out food.  Try the popcorn fest big turn out. Orville Redenbacher started this. Barely much popcorn lots of food and live bands at night.
Saturday -Chesterton,In Chesterton Cruise-In (Last Saturday of every month May thru September)
             -Lowell In Cruise (First Saturday of every month May thru October)
Some Illinois ones
Monday: Downtown Crete, IL from 5 - 9 p.m. Try Cals Chicken City home made food.
Saturday: Homer Glen Also one at the old Kmart now Big R (like Farm and Fleet) Bell Rd and Rt 7. 5-8pm
Swamp meets
Peotone, Il I like this one decent crowd every year and food  
Valpo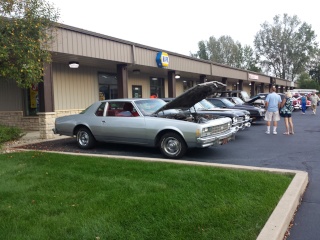 Crown Point