Ok so this is a How-To. Ill show you how to pull the C-Clips, change the pinion shaft lock bolt, and crosspin. This is a very easy project, and you cant mess anything up, so dont feel nervous dealing with your rear end, theres nothing to it. This applies to all GM 10 Bolts, posi and open, both 7.5& 8.5 the later models are usually 7.6 & 8.6 but theyre all the same. So lets get started.
STUFF YOU NEED BEFORE YOU START: Cover gasket (i recommend felpro RDS55028-1 for the 8.5" carriers because it has holes to oil the axle shafts, you can learn more about that by clicking
here
), and new cover if necessary. C-Clips (you can reuse your old ones if they arent that bad). Lock Bolt Dorman #81048. And the crosspin. Im finding the cross pin is hard to find for stock applications so you can use the old one if you cant find a new one. And lastly, differential fluid. Manufacturer recommends 80w-90 gear oil, and if you have posi, an oil additive is needed if your using regular gear oil. You can buy GL5 fluid specifically for limited slip applications and you dont have to add an additive. On to the process.
STEP ONE: Remove the cover and drain the oil, my rear end is out of the car but yours will more than likely be in the car, so youll have to jack it up appropriately. Spin the differential until you see the lock bolt.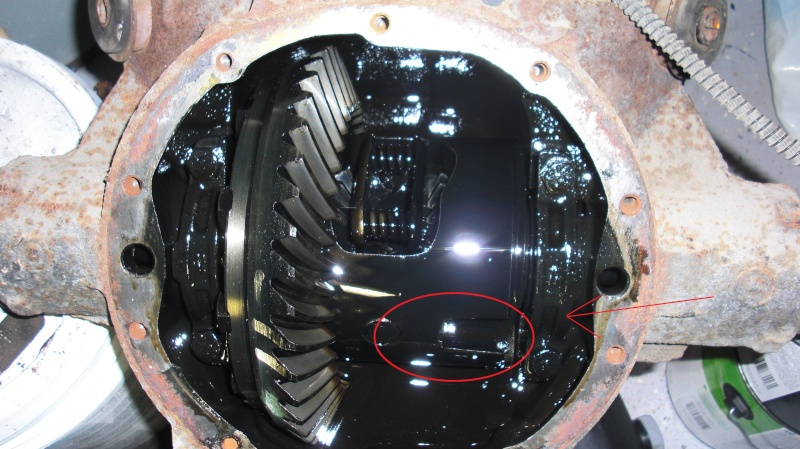 STEP TWO: Remove that bolt with a 5/16 socket. You may have to use a wrench if you cant fit a socket.
STEP THREE: Once that bolt is removed, you can proceed to remove the cross pin. If your only replacing the lock bolt then the following wont apply to you, you can stop at this step. On open differentials the crosspin will literally fall out, but on posi's the springs hold it in and you will have to hammer it out. What i did with my posi was hammer the pin out a little ways so you can still turn the diff without it hitting the housing, then i took the lock bolt that we just took out and put it through the hole on the cross pin, and then used a wrench and hammer to get it rest of the way out. Your replacing the bolt so dont worry about damaging it.
STEP FOUR: At this point you should have the cross pin out. If you have an open diff, becareful with the spider gears, you dont want them to fall out because they are a little difficult to get back in. On posi's you dont have to worry because of the spring assembly holds them all in place. With the cross pin out, you can now access the C-Clips. Pick any side axle to start with, push that axle you chose inward. You will now see the C-Clip in the housing, for the most part that too will literally fall out, but since my rear end is out of the car i had to fight with it a little bit. Usually you can use a small magnet to pull it out, but i had to use needle nose pliers. The C -Clips are easier to get out on the open diffs because the spring assembly isnt in the way, you may need a set of small hands handy lol.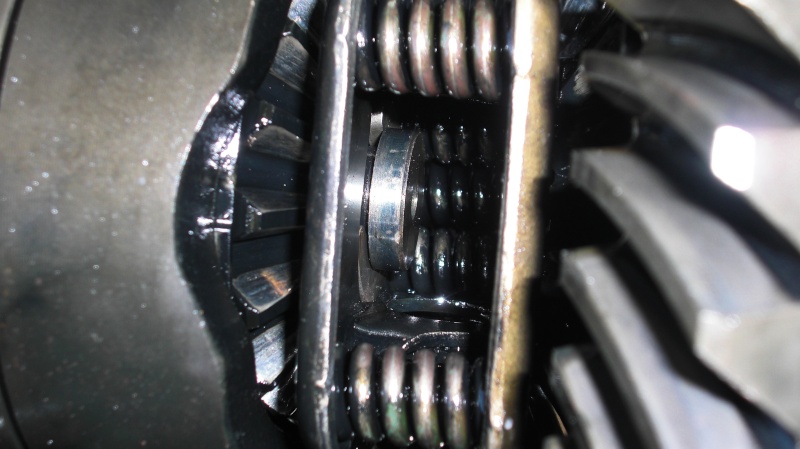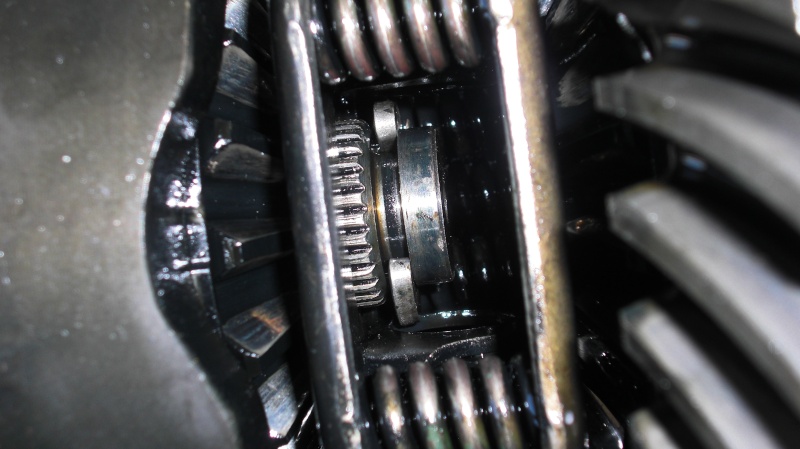 STEP FIVE: With the C-Clips out, you can pull the axles out, theyll slide right out. At this point you can and should replace the wheel seals, bearing seals whatever you want to call them. If your just replacing the C-Clips you dont have to remove the axles.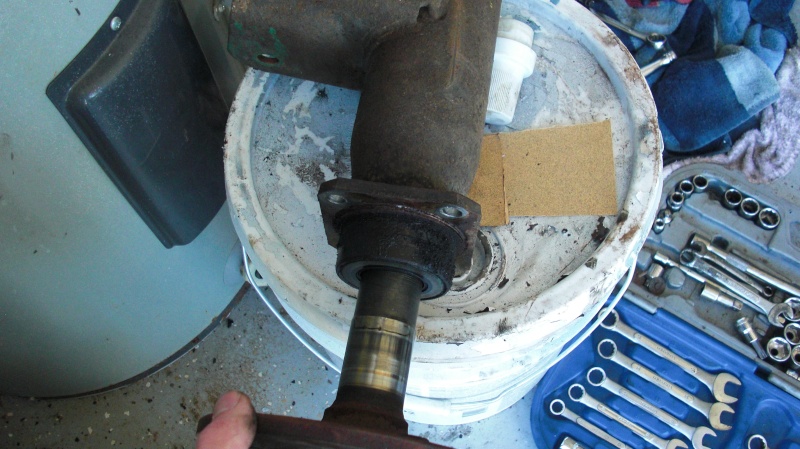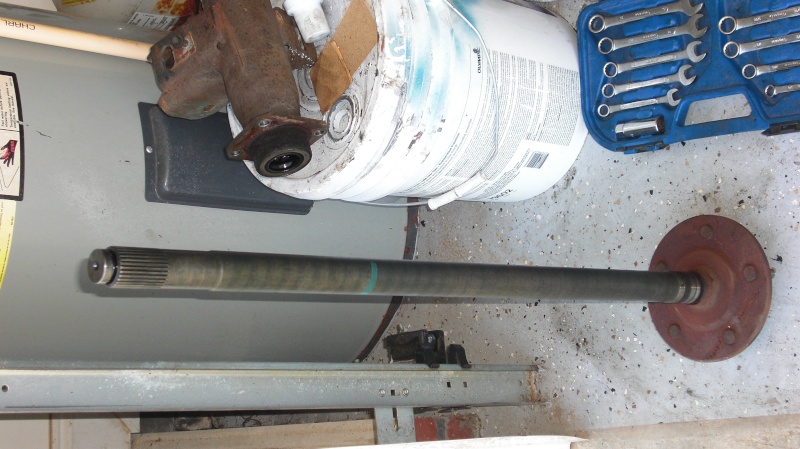 It seems you made it this far, and this is as far as im taking you guys so from here it should be self explanatory to put it all back together, just follow the steps in reverse. This is really a fool proof project and its pretty cheap too. The lock bolt is $3, the C-Clips are like $4, the cross pin ranges i think $15-20, cover gasket is $6, wheel seals are $5, and then youll need a little over two quarts of your favorite gear oil, and additive if necessary.
All of the pics above are of a posi 8.5" carrier, you may have a 7.5" carrier and or no posi, which would look like this next pic.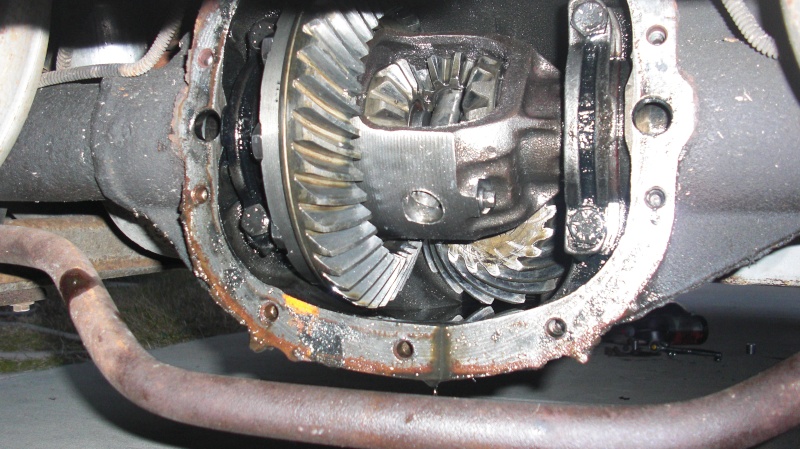 Make sure you get the right cover gasket for your carrier. Alright guys i do believe that is it. If you have any questions please comment below, ill answer the best i can.